About Tasvent Supply Company
TASVENT SUPPLY COMPANY PTY LTD is a Tasmanian owned and operated Company which manufactures and distributes a range of Home Ventilation Systems and Heat Transfer Systems, all using TASFLEX quality Tasmanian Made Flexible Ducting.
We also stock a large range of Fittings, Diffusers and Accessories to suit Ducted Heat Pump Systems as well as Gas Ducted Heating Systems.
Our staff have more than 38 years experience in the Heating, Ventilation and Air Conditioning industry. All our Systems are designed and sized to suit each particular Home. Installation is carried out by fully qualified installers with many years of practical experience. Because of this and by also using only the best available materials we confidently support and back up what we sell. DIY Kits are available, for the competent handyman, however electrical work must be done by a licensed electrician.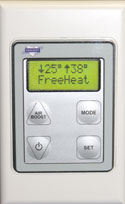 The TASVENT AI-PLUS Home Ventilation Systems is a "set and forget" system designed to manage the moisture levels and air quality in your home, giving you the peace of mind that your warmth and health is being looked after with little or no effort on your part. Through positive pressure home ventilation we create homes that are drier, easier to heat and with a much improved air quality. We achieve that with advanced levels of automation and system intelligence.
Our range of home ventilation systems offer electronic keypads for greater control that "intelligently" monitor your home and adjust as needed, as well as numerous other features including integration with heat pumps. To learn more about our product range, visit our Products page.
TASFLEX, Quality Flexible Ducting is made in Tasmania, to Australian Standards, using the highest quality materials, sourced in Australia. This ensures that we have consistency with the product and we are able to control quality. There are many suppliers of Flex now in the market and whilst they all might look the same this does not mean they are.
For example, with TASFLEX Flexible Ducting you are guaranteed the Ducting has Full Fire Rated Glue coverage thus ensuring the integrity of the product for many years.
TASFLEX also manufactures Acoustic Flex which ensures that your Ducted Heating and or Cooling System is whisper quiet. If you have a noisy Ducted Air Conditioning System the odds are you have a noisy Return Air Component. Using TASFLEX Acoustic Flex will certainly make it quieter.