Our Product Range
At Tasvent Supply Company, we're able to offer a comprehensive range of ventilation products (condensation control, heat transfer and home ventilation systems), along with our TasFlex flexible ducting, available for delivery and installation throughout Tasmania, including Launceston, Hobart, Burnie, North East Tasmania, North West Tasmania, and the West Coast.
Home Ventilation Products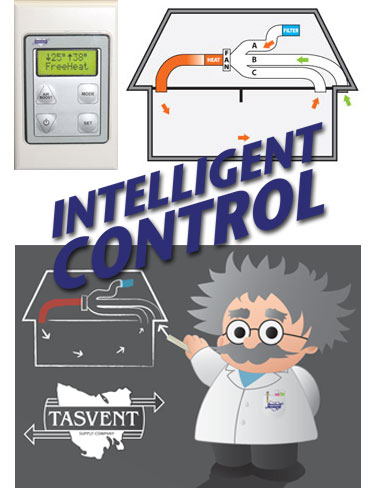 Ai Plus - The Ultimate System
The Ai Plus is our ultimate system, incorporating the features of all of our units, and can expand to accommodate all your requirements.
Fully Automated System
Keypad Control
Suits all sized homes
Expandable to adapt to changing needs
Air volume adjusts to roof space temperature
Positive Pressure
Optional Heat Transfer
Optional Outside Air Kit
Optional Inline Heater
Cool Air Circulation (requires Heat Pump)
Heat Pump compatible
Wood Heater compatible
Warm in Winter / Cool in Summer
Key Pad options to suit your decor
Filter monitor

---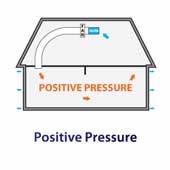 Positive Pressure Systems (Condensation Control)
This system takes warmer air from the ceiling space and pushes it through the house. This raises the air pressure in the house slightly which pushes out the moist air which causes dampness and condensation.
Moisture in the home is created in many ways, such as damp winter air, breathing, cooking, showering, clothes drying and many more.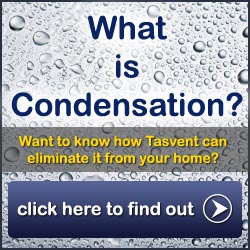 This system will ventilate and dry your home with warm filtered air drawn from a high point in the roof space or fresh air from outside. This will:
Reduce condensation, creating warm dry air;
Make your home easier to heat;
Improve the air quality in your home creating significant health benefits;
Utilise otherwise unused solar heat from the roof space;

---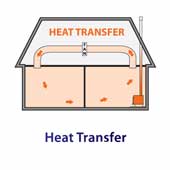 Heat Transfer
Often you warm the room you spend most time in, and the rest of the house can be cold or damp. It is also often the case that the room with the heat source can get too hot. Distribute the warmth in your house to other rooms, especially bedrooms and hallways.
This system moves warm air from a high temperature zone (usually a lounge with wood or gas fired heating) to other areas of your house. You can have multiple outlets and the Tasvent Heat Transfer system will quietly keep your whole house warm.

---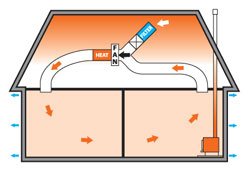 Combination System (Positive Pressure and Heat Transfer)
This system takes warmer air from the ceiling space and pushes it through the house, which raises the air pressure in the house slightly, while pushing out moist air, which causes dampness and condensation.
When you have a heat source operating in the home, a valve allows the system to double as a heat transfer system to distribute that heat through your home.
This system gives you the power of positive pressure to reduce dampness and use the free solar generated heat from your roof space. This system works very well in conjunction with heat pumps.
Combined systems use motorised air valves, offering all the benefits of positive pressure as well as re-circulationg heat transfer, or use of electric air heaters either in 'fresh' or 'recirculation' modes. These units create best use of roof space heat, plus the option to distribute household warmth as roof space temperature drops. Summer cooling is also available.

---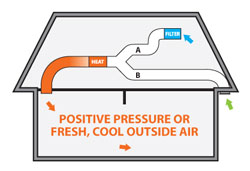 Cool Air System
The ultimate add on to our systems.
This provides cool air seeking valves to automatically or manually draw air from outside or the roof space to optimise the air condition in your home.
It allows you to dehumidify, introduce warm air from the roof space or draw air in from outside.
This system will make the best use of all options available for a warm and dry home with a cooling option as well. You can install this very effective system as it is or consider adding other features to it such as:
Electric Heater to warm the air distributed around the home;
Heat Transfer option

---
Other Products
TasFlex
TASFLEX is quality flexible ducting made right here in Tasmania for the heating, ventilation and air conditioning markets. It meets Australian Standards, using the highest quality materials, sourced in Australia.
With TASFLEX Flexible Ducting you are guaranteed the Ducting has Full Fire Rated Glue coverage thus ensuring the integrity of the product for many years.
TASFLEX also manufactures Acoustic Flex which ensures that your Ducted Heating and or Cooling System is whisper quiet. If you have a noisy Ducted Air Conditioning System the odds are you have a noisy Return Air Component. Using TASFLEX Acoustic Flex will certainly make it quieter.
Fire Rated
Insulated flex R1 thermal rating as standard
Plain core
Acoustic
Metalised outer sleeves
100mm - 500mm diameter sizes
3m and 6m lengths ex-stock
Semi-rigid aluminium

Fire Denyer
Our newest product is the FIRE DENYER, which is officially described as a "hazard activated power isolator" (HAPI). The FIRE DENYER is an electronic device which reduces the risk of fire by isolating electrical circuits and/or gas lines to appliances when smoke is detected.
The FIRE DENYER is specifically designed to prevent fires caused by an abandoned or discarded heat source. These types of fires are the most common type of house fire and are largely caused by people, while cooking, being distracted in some way (visitor, tired, infirm, pets, children, telephone, television, drink etc) and the forgotten cooking overheats, smokes, then ignites.
The FIRE DENYER works on a simple concept. Turn off the power and or gas, when smoke has been detected, before the cooking ignites.
As soon as smoke is detected, the FIRE DENYER shuts off all the selected appliances. The stove and appliances connected to kitchen power points are the leading cause of home fires. These would be the first circuits selected for connection to the FIRE DENYER.
Once the FIRE DENYER has done its job, the power can easily be restored. At the push of the reset button the power is reconnected.
Systems can be supplied with gas isolation and or c/w a flashing alerter or bed shaker vibrating alerter
for hearing impaired users.

HOW IT WORKS