** NEW! Tasvent Domus Smart Controller
The latest addition to our range of Intelligent Control Automated Home Ventilation Systems.
The NEW Tasvent Domus Smart Controller incorporates new technology, with more functions and options. The inclusion of Humidity sensing and new advanced fan speed control provides even greater efficiency, meaning less energy is required to keep your house warm/cool ventilated.
The Domus Smart Controller includes all the functions and options of our popular AI-PLUS Controller. A new keypad display, with Winter/Summer operation modes, which provide easy menu navigation makes the system even simpler to use.
Roof Purge is a new "add on" option allowing you to exhaust excessive heat from your roof cavity, thus reducing the heat load on your house during warmer months.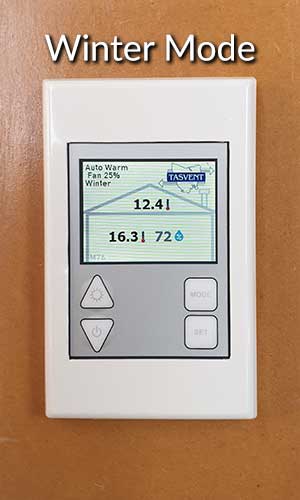 Our "Set and Forget" systems are designed to manage the moisture levels and air quality in your home giving you the peace of mind that your warmth and health is being looked after with little or no effort on your part.